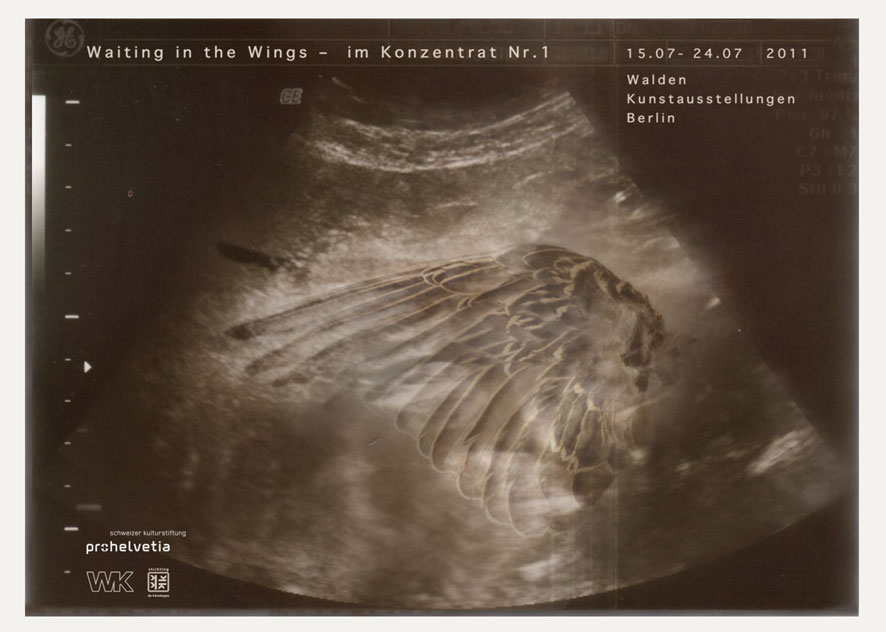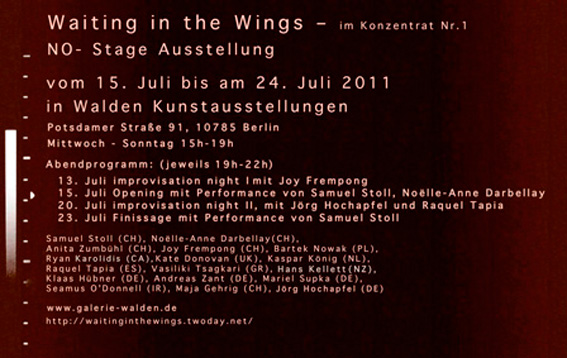 english below
Waiting in the wings – auf seinen Auftritt warten
If someone is waiting in the wings, or in the wings, they are in the background, but nearby,
ready to act on short notice.
Der Materie ist eine unendliche Fruchtbarkeit gegeben, eine unerschöpfliche Lebensmacht und
gleichzeitig eine verführerische Macht der Versuchung, die uns zum Formen verlockt.
In der Tiefe der Materie gestaltet sich undeutliches Lächeln, knüpfen sich Spannungen,
verdichten sich Versuche von Formen. Die ganze Materie wogt vor unbegrenzten Möglichkeiten,
die in matten Schauern durch sie hindurchgehen.
Traktat über die Mannequins, die Zimtläden, Bruno Schulz
«Waiting in the Wings» ist ein Versuch eine möglichst lebendige
und nachhaltige Ausstellung zu schaffen, die sowohl den BesucherInnen
wie auch den teilnehmenden KünslerInnen neue Horizonte eröffnet.
Die BesucherInnen bewegen sich durch ein lebendiges Labyrinth,
in dem Skulpturen Geschichten provozieren, in dem Malerei als Kulisse
dient und PerformerInnen selbst zum Gemälde werden.
Waiting in the Wings ist eine performative Installation, eine NO- Stage Ausstellung.
Die einzelnen Performances finden an verschiedenen Orten im Raum teilweise
gleichzeitig statt und verbinden sich so zu einer begehbaren bespielten Installation.
Die BesucherInnen sind physisch an der Performancewelt beteiligt.
Diese Ausstellung entstand in Zusammenarbeit mit dem Artspace Rondeel Maastricht.
Dort hat der "Waiting in the Wings" Performancepark bereits zweimal im Jahre 2007 und 2009 stattgefunden.
Von den 35 involvierten Künstlerinnen sind nun 14 KünstlerInnen in Walden Kunstausstellungen zu Gast.
Während 14 Tagen wird die performative Ausstellung auf- und ausgebaut.
Der Vorhang ist täglich von 15h-19h während der Ausstellungsdauer geöffnet.
Waiting in the Wings - concentrate Nr. 1
No- Stage Exhibition
15th of July to 24th of Juli 2011
at Walden Kunstausstellungen
Potsdamer Strasse 91, 10785 Berlin
Wednesday to sunday 3 to 7p.m
Eveningprogramm: (7 to 10p.m)
13th of July improvisationnight I with Joy Frempong, Andi Zant and guests
15th of July Opening with Performance by Samuel Stoll and Noëlle-Anne Darbellay
20th of July improvisationnight II with Jörg Hochapfel and Raquel Tapia, Seamus O`Donnell and Naja Wirtschoga
23th of July Finissage with Performance by Samuel Stoll, Seamus O`Donnell and Kaspar König
17 local and international artists are involved in «Waiting in the wings»
For a week they gaine their creativity together to create
a lively no-stage exhibition.
Visitors move through a live-Installation and are
physically involved and connected to the scenery.
Samuel Stoll (CH), Noëlle-Anne Darbellay(CH), Maja Gehrig (CH),
Anita Zumbühl (CH), Joy Frempong (CH),
Bartek Nowak (PL), Ryan Hardman(CA), Kate Donovan (UK), Kaspar König (NL)
Raquel Tapia (ES), Vasiliki Tsagkari (GR), Princess Hans (AU), Klaas Hübner (DE)
Andreas Zant (DE), Mariel Supka (DE), Jörg Hochapfel (DE), Seamus O`Donnell (IR)
waiting in the wings - 13. Jun, 18:02